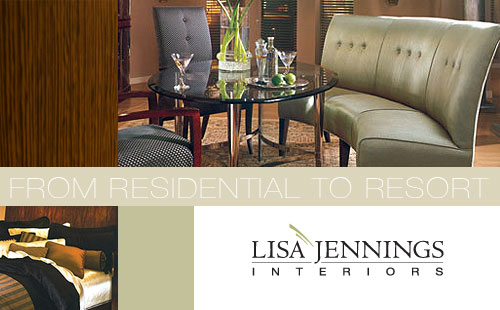 Custom Website Design for Lisa Jennings Interiors
We've had the opportunity to build two websites for Lisa Jennings Interiors since they moved to the Tampa Bay area a few years ago. The latest design takes inspiration from nature and the sustainable green movement.
Lisa Jennings Interiors moved from Atlanta to the Tampa Bay area in 2004. In doing so they needed to start building a local reputation. At the time South Island Design was hired to create a new website and again in 2011 hired to give it redesign.
Updating the design of a website every few years is needed to keep it looking fresh and up-to-date. This is especially true for an interior designer where trends come and go and last year's Honeysuckle needs to make room for this year's Tangerine.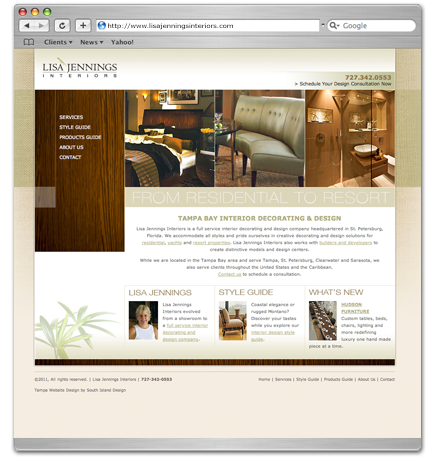 The Color Palette
For her redesigned website Lisa Jennings wanted to avoid the seasonal color trends and look more at nature and the sustainable green movement. This lead us to chose light beiges and greens with dark brown accents. The new website features more product photos and the neutral colors of the background don't detract from them. Website visitors need to be looking at Lisa Jennings' products and services, not our design.

The linen and teak wood textures provide a sophisticated edge that grounds the design in nature. They are also materials you'll commonly find in Lisa Jennings' designs for her upscale clientele.
New Website Feature
The biggest improvement to the content of the site was the addition of lightbox photo galleries. These are much easier to set up than they were a few years ago and it made sense to add them now. Not only is it easier to maintain, but it's a much more enjoyable experience for the website visitor.
The Call to Action
At the top right of every page you'll now find the phone number and a clear call to action. Contact information should be obvious and easy to find. At the bottom of the Services pages you'll now find a clear call to action. Don't be afraid to tell website visitors what to do next. It may be your last chance to speak to them before they close the browser window.

Ready for a New Website? Let's Get Started.