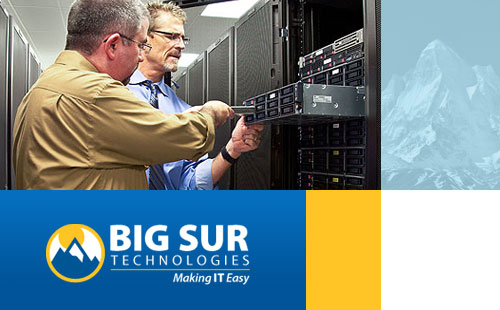 Website Design & Development
Big Sur Technolgies is a Tampa IT company that specializes in cloud computing, network design and network monitoring. We've been working with Sam Sandusky and Big Sur for several years now and just completed the third custom website design. While not every website needs a complete redesign every couple of years, Big Sur does. They're dealing with the latest technology and need to reinforce that with a website that is fresh and modern.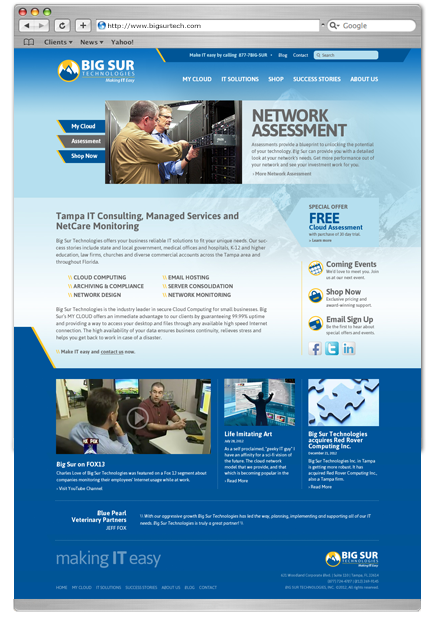 Since the last redesign of the website, blogging has become even more important to just about every company's marketing efforts. A company blog is a great way to prove to potential customers that you're experts in your field. It's also a great way to add new content to your site and attract the attention of search engines. By writing about your products and services (presumably using the relevant keywords) you will have a better chance of ranking higher in search results.
To stay fresh and current most websites need to refresh their design every 3 or 4 years. If you're selling technology or other cutting-edge products, it may need to be sooner.
The Color Palette
Big Sur Technologies was already using the deep yellow and blue in their logo. With those very strong colors we complemented them with a light blue.

Knowing that some pages of the site were going to be very text heavy, we wanted to make everything as readable as possible. So the dark yellow and blue are used as accent colors while the light blue is used in the background and fades to white.
Content Management System
We also took the opportunity of a complete website design to implement a content management system. The CMS now allows Big Sur's marketing director and staff to update portions of the website themselves. Not only does this allow everyone to contribute to the blog, but it also makes it easier for the different departments to keep their associated pages current.

Ready for a New Website? Let's Get Started.