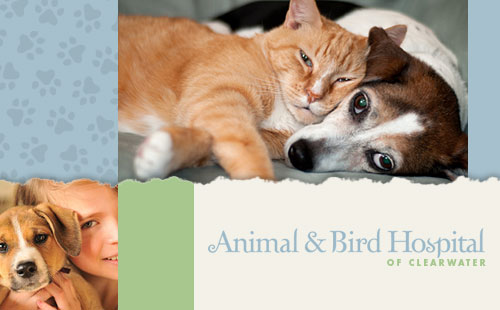 Website Design for Animal & Bird Hospital of Clearwater
Website Design & Development
Dr. Murphy and the Animal & Bird Hospital of Clearwater came to South Island Design to help take control of their existing website. The design was old and ready for a refresh, the content was dated and difficult to update and, worst of all, the navigation was infested with Flash. The Flash navigation made it difficult for search engines to crawl the site and made it nearly impossible for mobile users to get beyond the home page.
When we looked at the cost of cleaning up the existing template and fixing what was there, it was clear it would be more affordable to start over with a brand new website. Not only would Dr. Murphy get all of the functionality she was looking but, but she'd get a fresh, new design to go with it.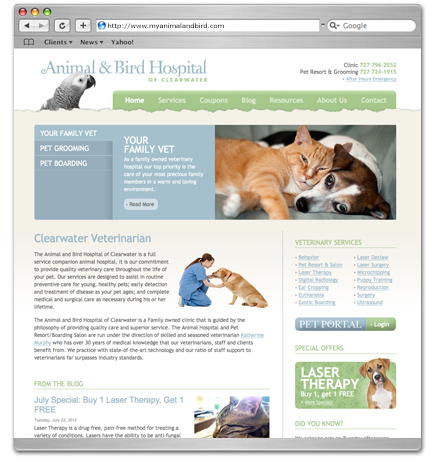 Veterinarian Website Design
Like most veterinarians, the Animal & Bird Hospital of Clearwater offers a lot of services to care for pets in the Tampa Bay area. This means the website has lots of pages and lots of text. Knowing this we designed the website with a clean layout with as few borders and boxes as possible. Longer pages of text are more digestible with less design elements competing for attention.
A veterinarian's website should be warm, friendly and welcoming. To avoid the site from looking too hard and sterile, we rounded the corners of the main navigation and some of the images and buttons. There is also a torn edge effect that divides the main content area from the header and footer areas. This imperfect design element removes any hint of sterility and humanizes the site with a hand-made touch.
One thing you'll notice with a lot of veterinarian websites is how cluttered the sidebars are with stock photos of puppies and animated gifs of kittens. While these can be cute, they detract from the main purpose of the site which is to quickly convey information to the visitor and get them to contact you. For best effect, we limited the sidebar of this veterinarian's website to a single cute puppy to draw attention to the latest special offer. There's also a version with a cute kitten for feline offers.
Veterinarian Logo Design
The Animal & Bird Hospital of Clearwater has never really had an official logo. Even after 30 years in business! With no logo and no colors to work from, designing a new website can be difficult. For the logo there wasn't time to go through the process of developing a brand identity. So we simply set the text in a typeface that has a little personality.

Selecting the right typeface for a logo can be tricky. You want it to have a unique feel, but it still needs to be readable. Zephyr Regular from P22 is perfect. It's a little whimsical and completely legible. You can even see the cat's tail on the "A" and the bird's beak on the "r".
The Color Palette
Again, with no existing branding, there was no color palette to work from. With any sort of business in the medical or health field, you usually want to avoid reds, the color of blood. So we looked on the complete opposite side of the color wheel and selected a soft green and paired it with a light, desaturated blue. While these two colors have a clean, medical feel to them, they would be too sterile and cold on a solid white background. We warmed it up just a wee bit with a light beige background. Subtle, but effective.

You also have to be careful with using greens with a medical business. The wrong green or too much of it can give off a sickly feel. Our soft green and blue aren't that far off from hospital scrubs.
Content Management System
One thing Dr. Murphy wanted with her new website was the ability for her staff to make updates themselves. They post monthly coupons and periodic news and want to be able to do that on their own schedule. South Island Design has been developing websites with Joomla for a few years now and it's the perfect solution for the Animal & Bird Hospital of Clearwater.
Joomla is a content management system (CMS) for websites. It's a user-friendly interface that allows you to log into a password protected area and edit most of the content. Updating text is done in an editor similar to MS-Word. Slideshows can be updated by uploading images to a folder on the hosting server.
If your website needs a new design or if you're interested in adding a content management system, then contact us.

Ready for a New Website? Let's Get Started.