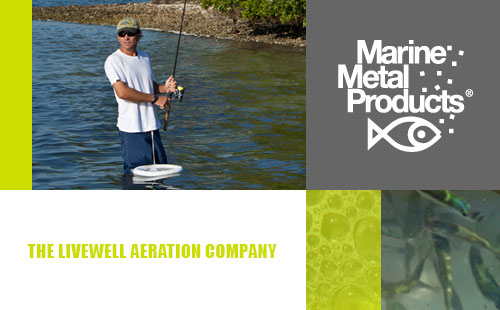 Website Design for Marine Metal Products
Working with Eckel Advertising, we recently redesigned the website for Marine Metal Products. The new site features a content management system that allows the client to update their product catalog and digital assets themselves.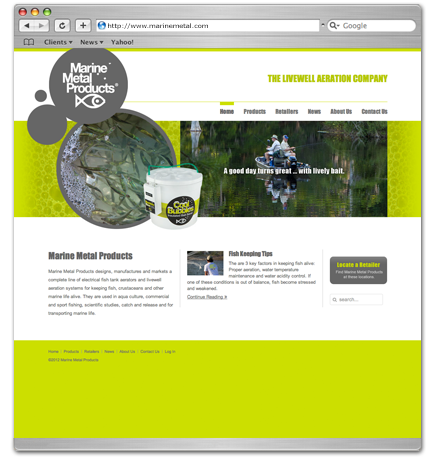 The Bait Problem (& Solution)
Marine Metal makes products that keep your fishing bait alive and kicking. Yes, minnows and shrimp and such. So how do you show fishing bait in an attractive light? It's easy: stop thinking literally and start thinking conceptually. The bulk of Marine Metal's products produce bubbles. And it's the bubbles that keep your bait alive. So we used the concept of "bubbles".
The logo is encircled in a gray bubble design and there's a subtle bubble texture in a small area of the home page.
There's also the animated logo. We're normally not a fan of animated logos. There's usually no point to them other than to appease a top decision maker who doesn't understand that website visitors are looking for information about their product, not a song and dance from their logo. Marine Metal's logo has animated bubbles and it works. It's unobtrusive and reinforces the bubble feature of their products.
The Color Palette
The color palette had already been established by Eckel Advertising's existing product labels and brochures. So anyone familiar with Marine Metal's products in a retail store will instantly know they're in the right place when they land at the MarineMetal.com home page.

The only change was the solid black. We pulled that back to a dark gray as sold black on solid white is too harsh on screen.
Content Management System
One of Marine Metal's project requirements was to have the ability to update the text and the product catalog themselves. This would allow them to update the site more often on their own schedule. A private dealers' area for downloading product artwork and spec sheets was also requested.
Joomla, a content management system, is the perfect solution. It lets Marine Metal log into a private area of the website and edit the content of all of the pages. The product catalog is a separate add-on component from YooTheme.com that makes creating and maintaining a product database a snap. The private member's area is also an add-on component from DocMan that handles the log-in process and organizes the assets for easy downloading.

Ready for a New Website? Let's Get Started.